Mil. Spec. Nylon

Since 1997, K9 Storm has manufactured our leashes using a custom woven nylon specifically designed for working dogs. The nylon webbing is interwoven to prevent frays and tears when dragging during a track. Our nylon webbing is rated to 3,000 lbs. breaking strength, is extremly light, and is flexible enough to be rolled for easy storage in your pocket.
Colors: Black, Olive Drab, Coyote Tan
​
Biothane
Do you love the feel of leather but hate the weight? Biothane leashes look, feel, and wear exactly like leather except they are lighter and load rated to 1,000 lbs. breaking strength. They are completely waterproof, dustproof, and because of their coating, spikey vegetation cannot stick to the webbing. 
Colors: Black and Coyote Tan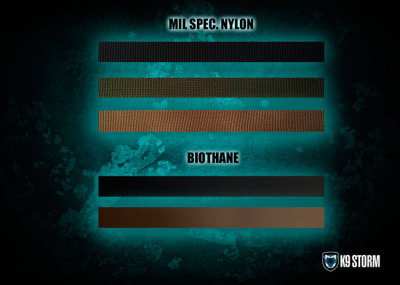 Which Webbing is Right for Me?

Like our hardware, both webbing types have their advantages. 
- Want light weight? Go with the nylon.

- Live in a coastal climate or around spikey plants such as cactus? Go with Biothane.